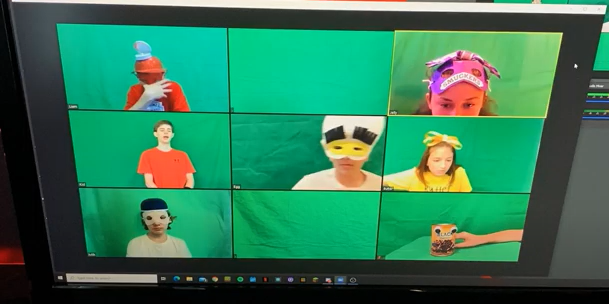 This year is different. Many students are not learning in a traditional school setting. Educational learning pods and split shifts have separated students. Some schools, students, and parents have decided that virtual learning away from others is the best choice for them. Others are back in school, but social distancing may have changed classes and after-school activities. DI has come up with a fabulous 20-21 Challenge season which will offer teams a chance to work together safely and have their Challenges presented and scored virtually!
This is the perfect time to try Destination Imagination for the first time, or to keep on the journey you began with a team in the past. If you are back in school, our new shortened Challenges will allow you to work in the classroom or after school in a socially distanced, but in-person, activity.
Learning from home this year or continuing with a Home School curriculum? DI will be the perfect way to get together with your friends that you can't see in person right now, and you can create a solution to one of several Team Challenges and an Instant Challenge.
Working in a learning pod? This is a great time to use DI as a learning experience during your school time, or even as an extra activity.
This year, all teams will submit a recorded Team Challenge solution, whether they worked together in person, or through an online platform, and also participate in virtual Instant Challenge events.
Anyone may purchase DI materials for a team of from two to seven members. You do not have to be affiliated with a school or after-school activity group. Team number registration is open now and purchasers of a team number will be required to assign a Team Manager (TM) to that team number and the TM background check will need to be completed through DIHQ. Once the check is complete and approved, the TM will get access to the Challenge materials. This year, team managers may purchase additional liability insurance at a nominal fee if they wish to augment their personal or household insurance though a NFHS membership.
DIHQ has written 7 hybrid Challenges that will allow them to be presented virtually this year. These Challenges will not be like the Challenges of the past and will not need as much time to solve them. The season will be starting later than normal with the release of 4 challenges on November 1st and the remaining 2 on December 1st. Rising Stars will also be released on November 1st. The previews for Technical, Scientific, Fine Arts, Service Learning, Early Learning, Improvisational and Engineering Challenges have been released on the national site.  Full Previews of Engineering and Improv will be coming soon.
The ILDI Tournament season will begin in mid-January with a virtual preliminary (Regional) Tournament and conclude on April 3 with the announcement of our ILDI Affiliate Tournament placements on our Illinois DI Online Award Ceremony. Timelines for this season will be found under our Tournaments tab. This year, each participating team in Illinois will be eligible for the Affiliate Tournament. As an added plus is the new lower price for participating in the tournaments: only $50.00 per team total for both the Preliminary and Affiliate Final Tournament.
Check out the Challenges and more information about our upcoming tournament season with the links on this website!
Welcome to Destination Imagination for 2020-2021
Diana Dignan & Jan Darnell
Affiliate Directors