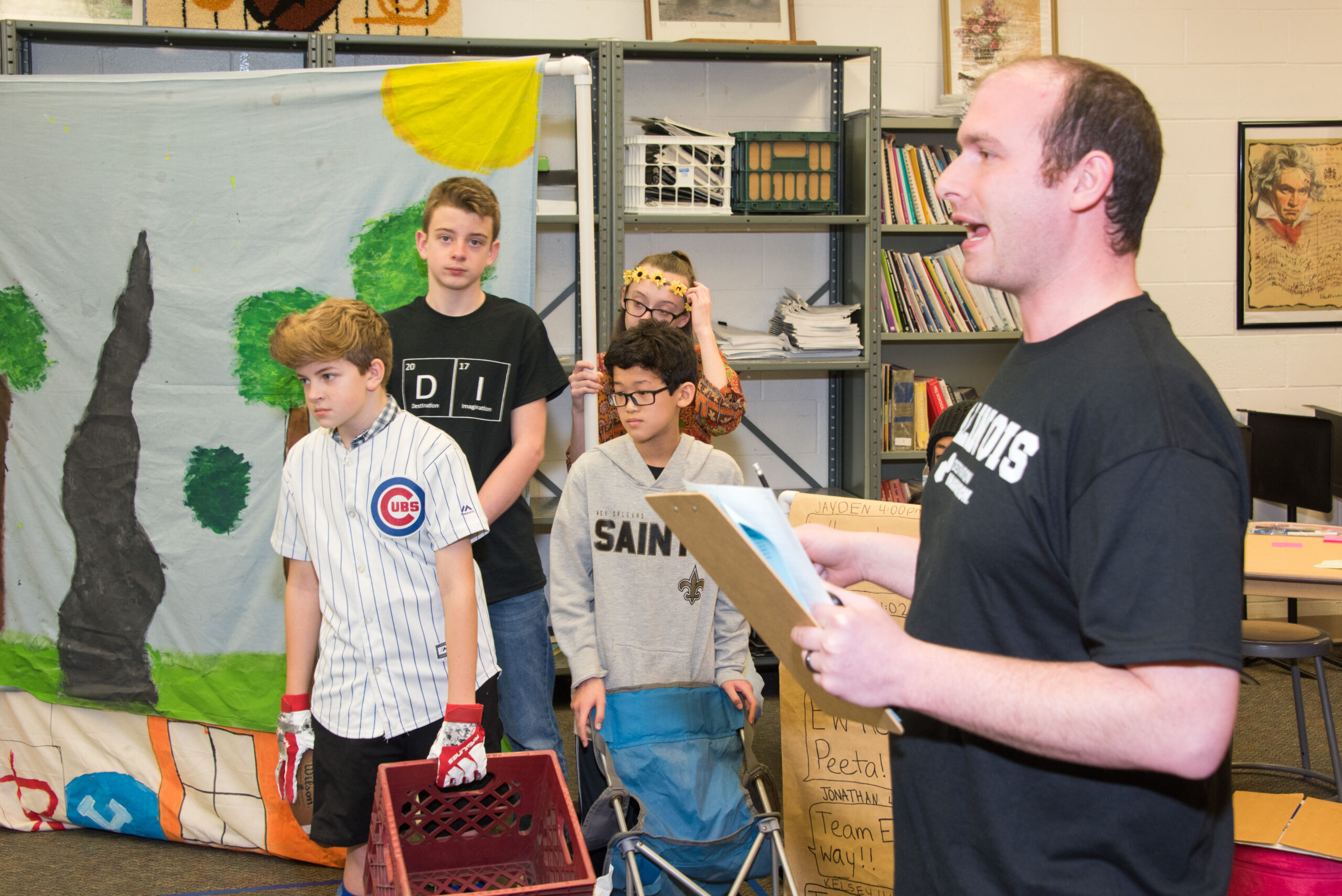 RESULTS  Illinois Affiliate Tournament, April 2, 2022
2022 ILDI Affiliate Tournament Results _WHR removed
Congratulations to all of the Teams of 2022!
Link for Trophy Order Form 2022 Affiliate Trophy Re-order Form due April 22, 2022
Link for Merchandise Order Form for Global Bound Illinois Teams Global order 2022
Global Finals Page Link https://www.globalfinals.org/
Click on the links below for information, maps, photos, and more!                                                                                                                       
ILDI Affiliate Schedule 4-2-2022
Tournament Information Letter for Teams
Illinois Destination Imagination teams have been waiting for 2 years to present their solutions in person, and our Affiliate Final will be a giant showcase of creativity!     
A Destination Imagination tournament is the ultimate celebration of creativity and innovation, and is an opportunity for kids to connect with and support other creative thinkers who participate in the program. Each year, volunteers help run more than 200 DI tournaments around the world. Thank you to NIU STEAM Outreach for the use of the campus and to the over 125 volunteers DI who will be working to make this tournament a fantastic experience for the teams.
TOURNAMENT LEVELS
Destination Imagination tournaments are open to all teams registered with DI. At a tournament, teams will compete against other teams in their Challenge Level (Elementary, Middle, and Secondary) and Challenge Category (i.e., Scientific, Fine Arts, etc.). This year, all teams in Illinois will be invited to participate in the in-person, scored Affiliate Final Tournament to be held on April 2, 2022 at NIU in DeKalb.  The top-tiered teams from each Affiliate qualify to participate in Global Finals, our culminating international tournament that takes place each May and includes more than 8,000 kids from 15+ countries. With more than 17,000 people attending the event, Global Finals is the world's largest celebration of creativity. Global Finals will be held In Kansas City, Mo, from Saturday, May 21 through Tuesday May 24.
THE COMPETITION PROCESS
A Destination Imagination Team Challenge is an open-ended project that teams work on over an extended period of time, usually 2-4 months. We offer seven new Team Challenges each year: Engineering, Technical, Scientific, Fine Arts, Improvisational, Service Learning and Early Learning Challenge (Rising Stars!). Our Early Learning Challenge is noncompetitive.
TEAM CHALLENGES
Each Team Challenge includes a set of specific requirements your team must complete in order to solve the Challenge. This is called the team's Central Challenge. These requirements in the Central Challenge could include a combination of technical, scientific, theatrical, engineering, fine arts and improvisational elements. Teams will often have to do research in order to fulfill the requirements in each Challenge. Many teams also participate in skills workshops or work with mentors and parents in a specific field in order to learn new skills needed to design and build their Challenge solutions.
In addition to the Team Challenge requirements, teams will also incorporate certain elements, called Team Choice Elements, into their solution. Team Choice Elements often have a meaningful connection to the team's solution and are a chance for them to show off their skills, talents, interests and areas of strength. These elements can be anything and often range from a small prop to a vehicle steering system.
INSTANT CHALLENGES
Instant Challenges are short problem solving activities (usually less than 10 minutes) that help strengthen students' quick, creative and critical thinking skills. They may be performance-based, task-based or a combination of the two.
At a tournament, teams will solve one Instant Challenge in addition to showcasing their Team Challenge solutions. Instant Challenges are kept secret until the day of the tournament. Because Instant Challenge is worth 25% of a team's overall score at a tournament, teams often practice different types of Instant Challenges throughout the season.