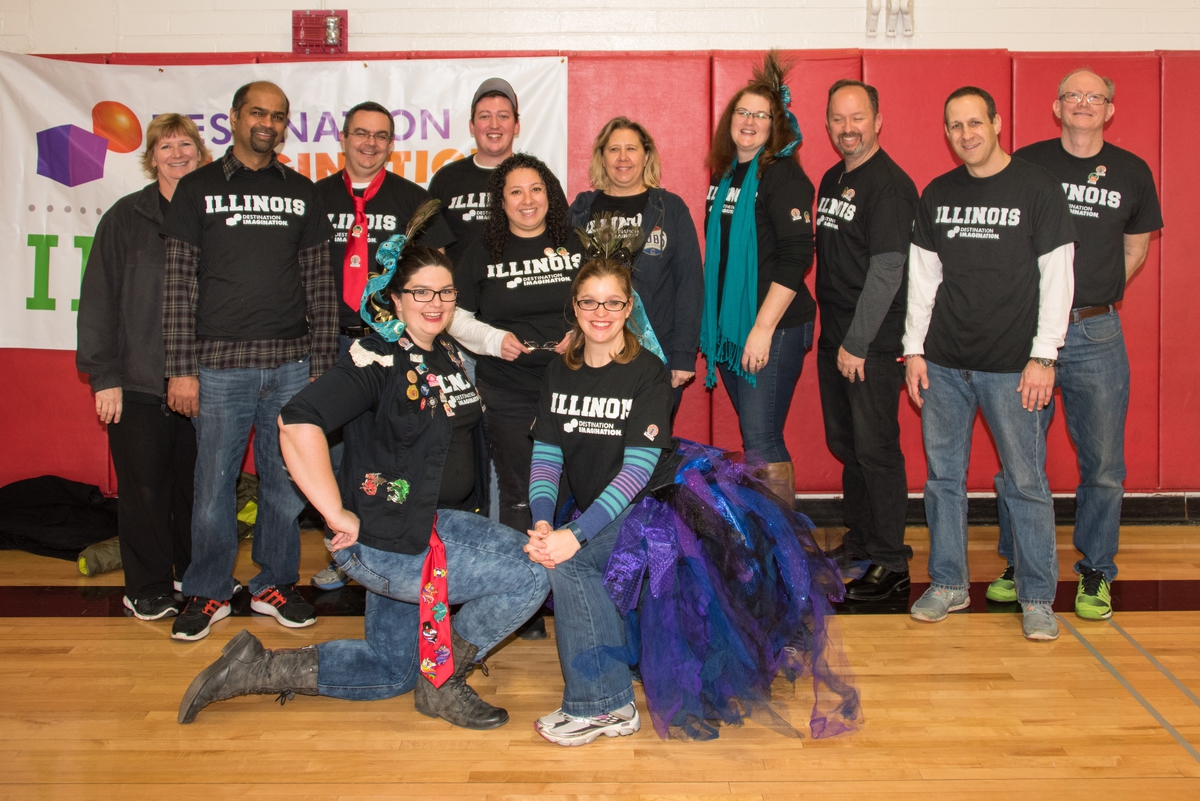 Do you have a special talent? Do you love creativity? Do you like being part of something awesome? Of course you do! Why not throw a little of your shine at Illinois DI?
Volunteers make our Destination Imagination world go 'round…no, really! We are a not-for-profit organization that relies on our talented, selfless volunteers to do everything from running our tournaments, to selling concessions, to appraising our teams. It takes hundreds of dedicated people to ensure that all the children who participate in this program are supported. This is where you come in!
The time you donate to DI allows our teams to learn new STEAM-based knowledge, hone valuable teamwork skills, and genuinely have fun. Our organization impacts children literally around the globe, and that takes some serious man-power. We can't express enough how valuable you are to the process of making a lasting impact on future generations.
The amount of time you dedicate to our cause is up to you, and no amount is too small.
Listed below are just a few ways you can get involved (and don't worry, we train you for it all!):
Team Manager: DI team managers work directly with a small group of children to help facilitate the process of solving and executing their vision for a challenge. You must be over 18 and be able to dedicate time after school each week to supervise your team. Team managers are often parents, teachers, and coaches (but that isn't a pre-requisite). If you love spending time with children, and want to be on the front-lines of creativity, this is the volunteer position for you!
Coordinators: Coordinators look at DI from a slightly wider picture. Our coordinators support team managers to enroll teams in their challenges at the local and Affiliate (state)-level. Coordinators are often the middle-man between their regional/affiliate directors and the teams. They relay important
information and help keep teams on track for competition. If you have a talent for juggling many responsibilities and prefer the "grown-up" parts of an organization this is the position you'll want!
Appraisers: In Destination Imagination, we don't "judge", we appraise. Appraisers have the amazing privilege to witness finished solutions to the challenges set for our participants. Appraisers have a front-
row seat to what the teams have worked months preparing. Appraisers score team solutions and talk directly with teams to get a full sense of what they learned and accomplished in their process. If you love the thrill of competition and want to get up-close and personal with amazing talent, then you're an appraiser!
General Volunteers: Our tournaments regularly turn out hundreds of children ranging in age. With children come families, and hungry bellies, and questions, and…well, you get the picture. In order to make sure all our events go off without a hitch we need an army of dedicated volunteers willing to assist
in a variety of ways. If you just want to help in some way, and don't mind selling snacks or registering teams, or helping with set-up/take-down, this is the position for you!
There are so many ways to help, and we appreciate each and every one of you that clicks the
"Volunteer" button.
Contact for volunteering with DI:  https://www.destinationimagination.org/volunteer/
Need some extra convincing that Destination Imagination is magical? Check out some volunteer testimonials below:
"I am both an alumna of this amazing program, and I keep finding myself spending more and more time volunteering for DI as a grown-up. As a participant, I learned the art of teamwork, how to improvise, and how to think outside the box. These attributes continue to impact my adult life every single day. To have the privilege to witness a new generation of children benefiting from this program is truly wonderful. I can't wait for DI season to start each year! The group of volunteers develops a deep camaraderie too, where we can put the phones down and just witness unfiltered creativity. If you're on the fence, I promise you will not regret volunteering for this program. It is the definition of fun!" – Meghan Jensen, Region 1 Special Events Coordinator/Appraiser